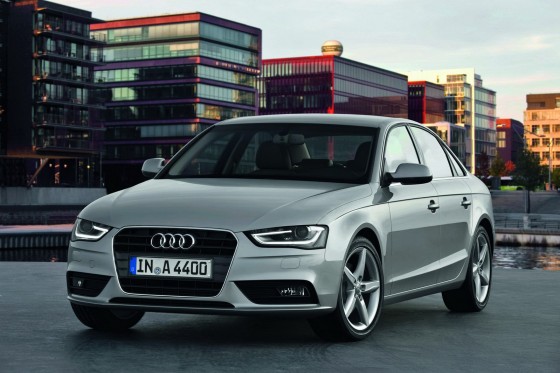 Audi unveiled first official photos of its restyling A4 model. The facelifted A4 lineup look like 2011MY A8 and new 2012MY A6. The refreshed A4 have got new six-point grille and sharp headlamps with LED daytime lights that form a narrow band, redesigned front and rear bumpers, plus tweaked tail lights that reflect the shape of the head lights.

In exterior the sedan and Avant now measuring 4.70 meters in length, and the Allroad Quattro and S4, 4.72 meters. The wheelbases for all variants is 2.81 meters, and the width is 1.83 meters, while the height varies between 1.41 and 1.50 meters depending on the version.
In interior A4 will arrive with a new selection of steering wheel designs and fresh color options.
In Europe, the A4 sedan and Avant will be offered with a new 1.8-liter TFSI petrol that delivers 170HP and 320 Nm of torque. In the sedan, it returns a combined fuel economy of 5.6 lt/100km with CO2 emission of 134 grams per km, which represents a 19 percent decrease compared with the previous unit.
The updated 2.0-liter TDI is offered in three states of tune producing 136HP, 163HP and 177HP. The most power engine is the 3.0-liter V6 TFSI that produces 272HP in the A4 and 333HP in the S4. The latter is available in both sedan and Avant variants.
A six-speed manual gearbox is standard on the A4 Sedan and Avant models with front-wheel drive, with most variants offering an optional continuously variable multitronic transmission. The quattro versions come with either a manual gearbox or the seven-speed S tronic double-clutch transmission.