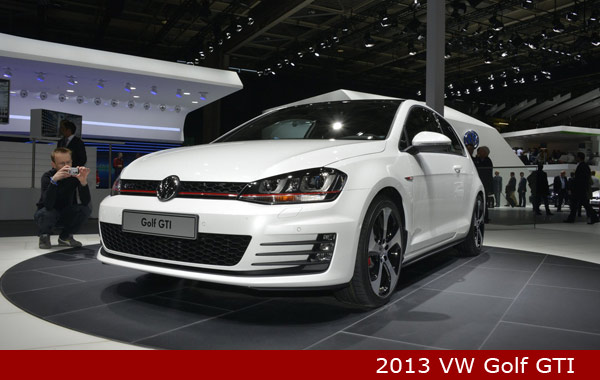 The big news for Gold GTI fans. VW has unveiled the seventh-generation of the Golf model at the 2012 Paris Auto Show. The Volskwagen said that the new Golf GTI in both three- and five-door body styles will go on sale in Europe in early 2013 and in the UK next summer. Sorry, but no word yet on when it will arrive in North America.

The new German GTI stands out from lesser versions of the Golf thanks to its honeycomb grille with double red-stipe accents, the smoked LED rear lights and license plate illumination, the red brake calipers behind the five-spoke alloy wheels and the 80 mm diameter tailpipes with a chrome finish.
Traditional Golf GTI themes, such as the golf ball-shaped gear lever, the tartan cloth upholstery and the flat-bottomed sports steering wheel confirm that this is a production-ready car.
The new Golf GTI will rides on VW's all-new MQB platform. It gets a variable-ratio steering system, which in theory at least, makes driving easier at low speeds while providing the necessary feedback when the driver is pressing on.
The GTI's new 2.0-liter four-cylinder, direct injection turbocharged engine is more powerful and will be produced in two outputs, with the choice of two six-speed gearboxes, a standard manual and an optional dual-clutch DSG.
In standard spec, output is 217HP. The 0-100 km/h (0-62 mph) sprint takes 6.6 seconds and top speed is 246 km/h (153 mph). The manual gearbox-equipped GTI has an average fuel consumption of 6.0 lt/100 km (39.2 mpg US).
The German automaker offers a factory-prepared "performance pack". Those expecting huge power gains will be disappointed: output is increased by just 10PS (10HP), the 0-100 km/h (0-62 mph) time drops by a mere 0.1 seconds to 6.5″ and top speed is barely higher at 250 km/h (155 mph).