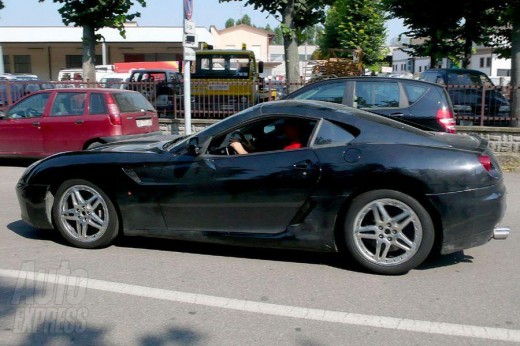 The Ferrari 599 has been spied out testing without ane camo. Only easy distinguish by its mock hard top, which doesn't quite match the colour of the main bodywork.
The production top could well be a folding metal item, much like the coupe-cabriolet California due next year. The front engine layout of the 599 would certainly allow space for a trick mechanism at the rear, although the weight could blunt performance.
The 575 Superamerica, enjoyed a 25bhp hike to counter the 60kg weight increase, although it featured a unique rotating glass panel rather than a full length CC option.
It is likely the 599 Barchetta's engine will remain unchanged, keeping the 6.0-litre 620bhp V12 from the GTB Fiorano coupe, though the top speed will drop from the GTB's 205mph.
The open-top could appear at next spring's Geneva Motor Show, with production to start in the summer. The tin-top model costs $400 000, so expect the convertible will cost around $430 000.