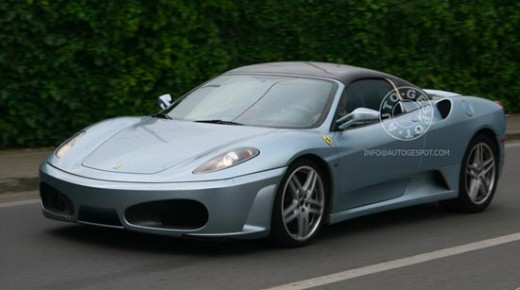 What do you see on the spy shot above? I think its a Ferrari F430 with removable hardtop. The hardtop on a F430 is quite funny, it doesn't match with the car. A F430 is a car you drive on sunny days, just like any other Ferrari. And when it's bad weather you can always count on your softtop. So a hardtop isn't really necessary.
It could be a mule for the successor of the F430, but the shape and lines are all the same. This could mean that the successor could have the same size. The F430 has already been on the market for a while and with the introduction of the Gallardo LP560-4 Ferrari has less power than the Lambo. So this could be a mule. But we don't think it is because why would they drive in a F430 with a hardtop? That will attract a lot of attention.

Another option is that Ferrari has built a hardtop because a lot of customers ask for it. But we don't think that people want a hardtop on their Spider. But hey.. we can make mistakes! If there is a need for a hardtop, why wouldn't Ferrari build one?
The last option is a whacky Italian who placed a custom build hardtop on his F. But that isn't really possible because there is a factory license plate on the car.