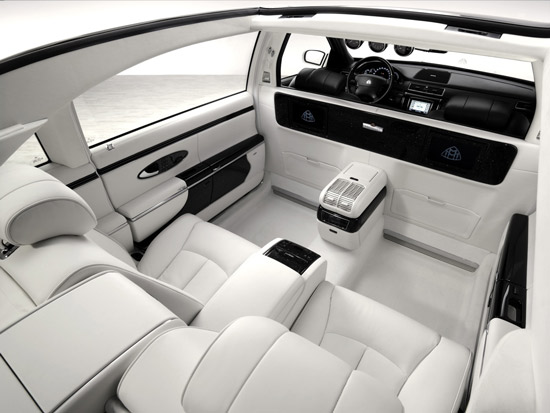 Maybach has been released photos its new 62 Landaulet, which will make a world debut at the upcoming Dubai Motor Show. The car is a new semi-convertible version of the 62 saloon that officials will be calling a concept, but a limited production run of just 20 examples is all but confirmed for early next year.
The new model is based on the current Maybach 62 with adopts a sliding roof over the rear compartment. Opening and closing the roof takes 16 seconds.
The car also gets a revised interior with a removable glass panel dividing the front and rear quarters. Appointments in the rear include white leather, piano lacquer and black granite surfaces.
The 62 Landaulet study is powered by an uprated version of the V12 engine from the Maybach 62 S. Thanks to twin turbochargers and water intercooling, the V12 develops a maximum output of 612hp (450 kW) from its 6.0L of displacement. This is continuously available between 4,800 and 5,100rpm, and the engine also delivers its peak torque of 1,000Nm between 2,000 and 4,000 rpm.