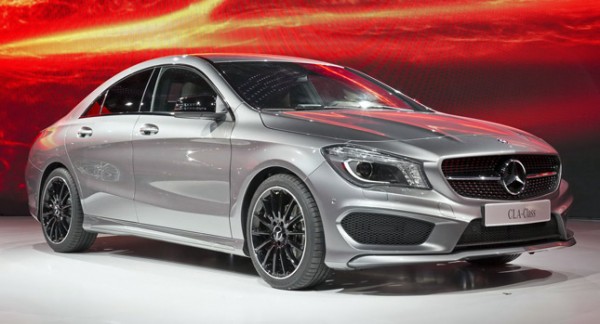 Here are the first official pictures of a German luxury four-door sports sedan based on the A-Class MFA front-wheel drive platform, called CLA. The new CLA may be equipped with the 4MATIC all-wheel drive system being available as an option and it will launch with a 207HP turbocharged 2.0-liter four-banger in the U.S. and a wider range of gasoline and diesel engines in Europe and other markets.

The CLA 180 BlueEFFICIENCY edition is even more aerodynamic, boasting a Cd of just 0.22 thanks to numerous modifications that include low-drag wheel trims, serrated wheel spoilers on the wheel arches, extensive underbody paneling and a new rear silencer followed by an air-flow optimizing diffuser.
In Europe, the base model is the CLA 180 that's priced at US$38,723 in Germany and is powered by a turbocharged 1.6-liter gasoline unit with 120HP and 200 Nm of torque. It accelerates from a standstill to 62 mph in 9.3 seconds and has a top speed of 130 mph and an average consumption of 43.5-42.0 mpg.
Next up is the US$42,596 CLA 200 that features a more powerful version of the 1.6-liter turbo engine with 154HP and 250 Nm of torque. It sprints to 62 mph from a standstill in 8.6 seconds and reaches a top speed of 143 mph, while consuming 42.7-41.3 mpg on average.
The range-topper is the Mercedes-Benz CLA 250 that features a 2.0-liter turbocharged four-cylinder with an output of 208HP and 350Nm of torque. That's good enough for a 0-62 mph acceleration time and a 150 mph top speed. Its price in Germany is US$51,686, in euros, of course.
The sole diesel variant that's available at launch is the CLA 220 CDI that's powered by a 2.2-liter unit with 167HP and a CLA 250-matching 350 Nm of torque that enable it to complete the 0-62 mph sprint in 8.2 seconds and top out at 143 mph. Naturally, it's the most fuel efficient of the bunch, with an average consumption of 56.0-52.3 mpg, although at US$50,770 it's not exactly a steal.
In Europe, the CLA is already available to order and sales will begin in April, with the exception of the CLA 180 BlueEFFICIENCY that will join the range in June. U.S. sales of the CLA 250 will start in September with prices to be announced.