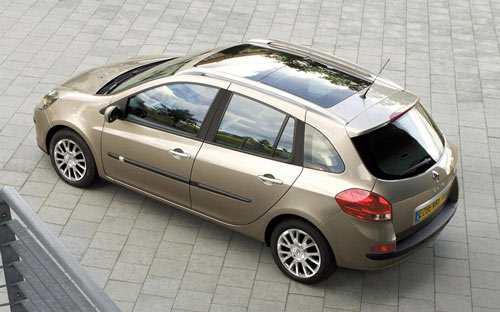 The new version of the 3-door Clio Grand Tour model will be shown in Frankfurt (Clio Sport Tourer in the UK). The Clio Grand Tour grows an extra set of doors to maximize utility and is very conventional looking. Renault has released next to nothing in the way of details, so it looks like we're going to have to wait until closer to the show to learn more.
PRESS RELEASE:
Clio Estate at the Frankfurt Motor Show
Clio Estate will receive its world premiere at the 2007 Frankfurt Motor Show. Its design echoes the staple lines of Clio Grand Tour Concept, which was unveiled at the last Geneva Motor Show. Clio Estate is firmly focused on leisure pursuits. It strikes a perfect balance between sleek design with its angled rear screen and spaciousness with the generous volumes of its luggage area (439 liters). At 4.2 metres in length it is a compact vehicle that builds on the strengths of Clio III in terms of driving pleasure, interior space, comfort, and safety.