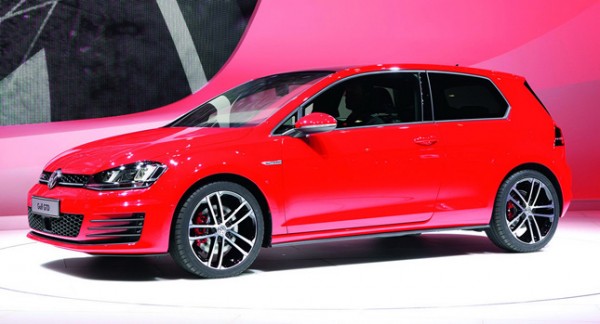 Volkswagen released UK pricing for the diesel-version of the Golf hatch. So, the Golf GTD now available with prices starting at £25,285. The starting price is £310 more than the previous GTD.

Available in both 3- and 5-door body styles, the new Golf GTD Mk7 keeps the looks and parts of the re-tuned chassis of the GTI, while swapping the petrol unit for a 2.0-liter common rail, turbocharged diesel rated for 181hp (184PS) and 380Nm (280 lb-ft) of peak torque from 1,750 rpm,
With the standard 6-speed manual gearbox turning the front wheels, acceleration from zero to 62 mph (100km/h) takes 7.5 seconds, while the top speed is 142 mph (229km/h), and fuel consumption is 67.3mpg UK (56.0mpg US). When fitted with the optional six-speed dual-clutch DSG transmission, the Golf GTD returns 62.8mpg UK (52.3mpg US) and 122g/km of CO2.