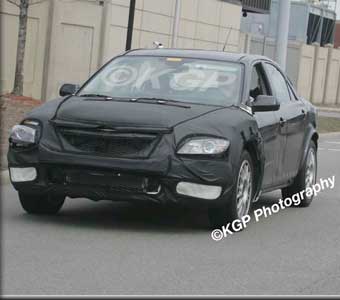 Mazda is finally upgrading its midsize sedan. Spy photos show a development mule undergoing tests on the streets of Detroit. It's wearing current sheet metal, but we suspect it's riding on the chassis of the 2008 Mazda 6 sedan.
The next-generation Mazda 6 is going to be bigger. The current model's narrow cabin and limited backseat room have been a constant source of criticism.
For 2008 expected the next-generation Mazda 6 will upgrade to Ford's new 3.5-liter V6. This engine debuts in the Ford Edge and Lincoln Mark X crossovers this year as well as the Lincoln Mark Z sedan, a car which shares the Mazda 6's CD3 platform.