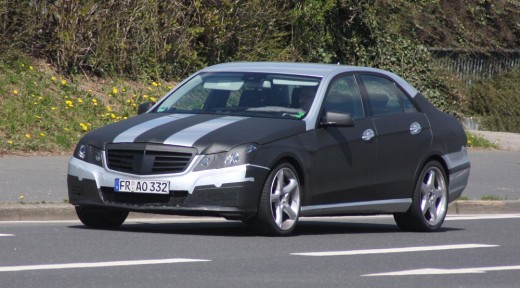 The disguised test mule of the next Mercedes E-class was caught on road testing.
The new Mercedes-Benz E63 will have a typically sleek outline redolent of its bigger S-class brother. Plus the quad pipes, big wheels, discrete body kit and huge brake discs that denote the E63 AMG sports saloon.
One giveaway to the new E-class's design is the updated, CLS-style headlamps alluded to under the frontal disguise of this test car, a strong character line down the flanks and a stylized rear wheel arch.
The next-gen E-class will have an E300 Bluetec diesel hybrid emitting just 134g/km of CO2. By linking diesel Bluetec engine to a hybrid system, the greenest E-class should mix performance (413lb ft of twist) with purity (55.4mpg).
The diesel hybrid won't be a big seller, as it'll cost more than an E320 CDI (but less than the E500). The new Mercedes-Benz E63 will be unveiled at the 2008 Paris motor show this autumn.