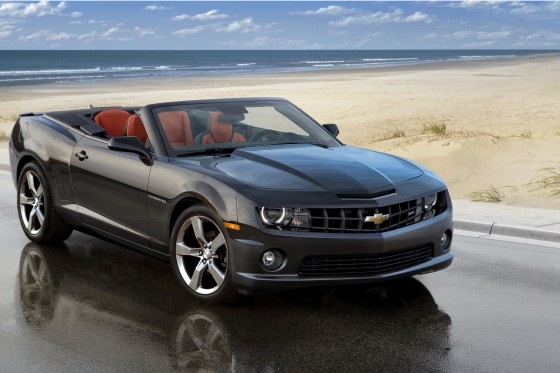 The 2011 Chevrolet Camaro Convertible will make its public debut on this week at the Los Angeles Auto Show. The new Camaro Convertible going on sale in February of 2011 with an estimated starting price $30,000.
"To compensate for the reduced structure of an open car, engineers often will make the suspension softer, making the convertible a boulevard cruiser," said Al Oppenheiser, Camaro chief engineer. "Instead, we took the more difficult, but better path of bolstering structure rather than softening the suspension. We didn't change a strut, bushing or spring rate from the Camaro coupe."

The Camaro Convertible comes equipped with a standard power-folding top that retracts in about 20 seconds. Furthermore, a folding, one-piece tonneau cover is standard on 2LT and 2SS models and optional on 1LT/1SS.
Other changes over the coupe model include the relocation of the radio antenna to the boot and the trunk lock cylinder from between the taillamps to an area between the rear seat back cushion and driver's side interior panel.
The soft-top four-seater will be offered in similar model configurations as the Camaro coupe, meaning buyers will have a choice of two engines, a 312HP 3.6-liter V6 delivering 29 mpg highway and an 6.2L V8 with 426 horsepower. A six-speed manual transmission will be standard, with an optional six-speed automatic.
2011 Chevrolet Camaro at LemonFree.com