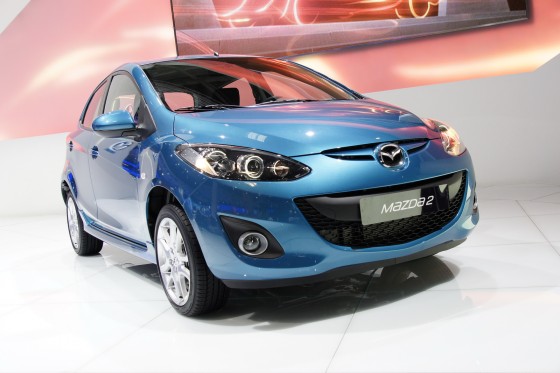 The facelifted Mazda2 was unveiled in Paris today. The Mazda2 enters the 2011 model year with a revised front grille and a re-sculptured front bumper. A fresh choice of exterior colors and alloy wheel designs complete the look.
Inside, Mazda2 gets new materials, seat fabrics and colours, plus some other upgrades such as a new meter design with black background and a closed-type glove compartment.

Underneath the sheetmetal, Mazda has made changes to the chassis and suspension to provide a more comfortable and smooth ride. Completing the facelift package is the engine line-up that has been updated to comply with Euro 5 regulations.
There are three petrol engines including two 1.3-litre derivatives producing 75 PS and 84 PS, and a 1.5-litre with 102 PS, plus a revised 1.6-litre turbo diesel engine with 95 PS. Aside from being more powerful, the diesel unit is also more fuel efficient using 4.2 litres of fuel per 100 km (56 mpg US).