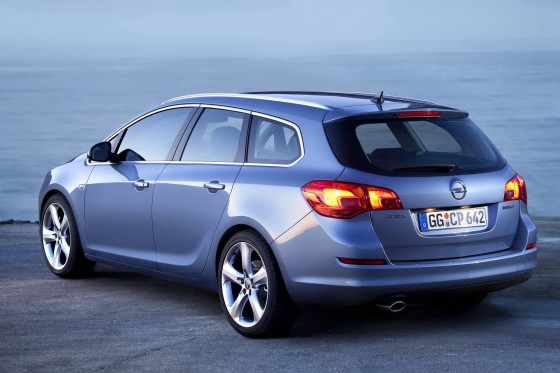 The all-new Opel (Vauxhall in the UK) Astra Sports Tourer has been revealed at the Paris Motor Show on October. This euro GM's station wagon model go on sale across Europe in November.
The exterior of the Astra Sports Tourer look like the Insignia ST. The Opel Astra Sports Tourer shares its footprint with its 5-door sibling, with a similar 2,685 mm-long wheelbase and front and rear tracks of 1544 and 1558 mm respectively.

GM's European unit has yet to publish photos of the interior, but Opel said that the cabin has 75 liter of storage space or 50 percent more than in the previous generation station wagon.
The new Astra ST also features a new FlexFold Rear Seat system which allows each section of the 60/40 split-fold rear seatbacks to be lowered at the press of a button located in the side walls of the cargo compartment.
With the rear seat backs lowered, the cargo load length is increased to 1835 mm, 28 mm more than in the current Astra wagon. The load volume of the Astra ST can be adjusted between 500 and 1550 liters.
The Astra Sports Tourer's powertrain line-up will comprise of eight gasoline and diesel engines, ranging in power from 95HP to 180HP, including a new 1.4-liter Turbo petrol with 140-horsepower and a 2.0-liter turbo diesel with 160-horsepower that returns a combined fuel consumption of 5.1 lt/100km (equal to 46.1mpg US and 55.4mpg UK).
No word about plans to bring the Astra Sports Tourer to the North America.