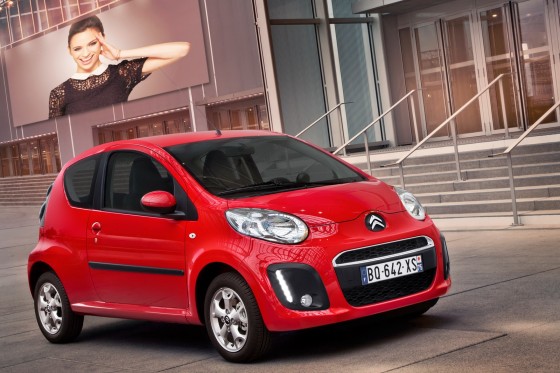 The 2012 Citroen C1 mini has received a facelift and will make its world premiere at the Brussels Motor Show in Belgium on January 10. In exterior, a facelift include the newly designed front bumper that incorporates fog lights and vertical LED daytime running lights, a shorter bonnet, a different set of alloy wheel options plus the Citroen's new chevrons and badging.
Inside, Citroen mini car features a new leather steering wheel for EGS models, and a new-look gearstick for manual gearbox versions. In addition, the Citroen has added a Leather/Alcantara option while there are also new audio systems.

Citroen has tweaked the 68HP 1.0-liter three-cylinder petrol engine, which now boasts improved fuel economy of up to 54.7mpg US (4.3lt/100km) on the combined cycle.
2012 Citroen C1 facelift equipped with the Electronic Gearbox System (EGS) deliver 52.3mpg US (4.5lt/100km). Citroen says that the 3.44m long city car also features new power steering settings and shock absorbers that promise to enhance ride comfort and agility at low speeds. The 2012 Citroen C1 is offered in both 3- and 5-door flavors and is expected to go on sale across Europe by April.