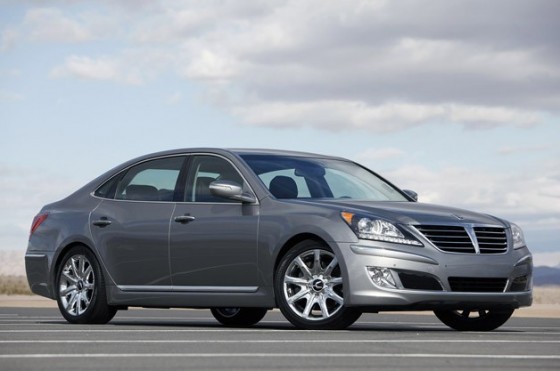 Look at the official photos of the 2012 Hyundai Equus. The new 2012 Equus gets the same 5.0-liter V8 engine found in the Genesis Sedan R-Spec as well as a new eight-speed automatic transmission that helps keep fuel economy in check. With a few interior tweaks thrown in for good measure and the same gamut of standard equipment, the Equus continues to be a great reason to give the old stalwarts of luxury a second thought.

The 2012 Hyundai Equus wears a proud grille, LED-trimmed headlights and a suitably massive Equus badge on the hood. Even the 19-inch chrome wheels are carryovers from 2011. The Equus is barely more than two years old, and while the exterior aesthetics aren't likely to wow anyone, we doubt buyers count pupil-dilating styling among reasons to bring the Korean luxury barge home at the end of the day.
Engineers did take the time to give the interior a once-over with slight adjustments. The front seats now boast a more comfortable head rest design as well as improved ventilation. Likewise, the rear bench now features a softer center cushion on five-seat models.
The 2011 Equus was forced to lug around up to 4,600 pounds with a 385-horsepower 4.6-liter V8. While the engine was perfectly adequate for quietly floating around town, it wasn't exactly capable of producing eye-widening acceleration. Hyundai upped the ante for 2012 with the same 5.0-liter V8 found in the nose of the Genesis Sedan R-Spec. The engine is good for a full 429 horsepower at 6,400 rpm and 376 pound-feet of torque at a similarly lofty 5,000 rpm. Needless to say, the V8 is happiest in its upper octaves where speed piles on quickly.