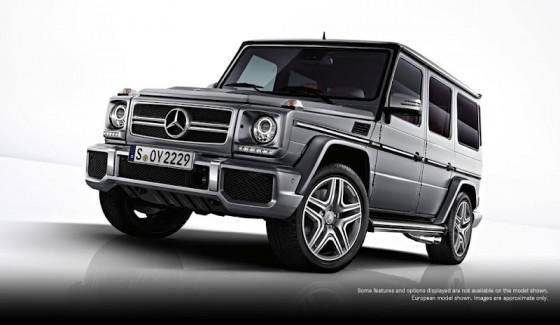 Mercedes-Benz released first official pictures of its V8-powered G63 AMG. The new G63 will be unveiled at the Auto China 2012 in Beijing. Its a second most powerful model in the 2013 G-Class series sports the same twin-turbocharged 5.5-litre V8 direct injection petrol engine with a start-stop system found in other AMG models like the CLS 63 AMG and SL 63 AMG.

The bi-turbo V8 unit of the new G63 AMG delivers a maximum output of 536hp at 5,500 rpm and a peak torque of 760Nm between 2,000 and 5,000 rpm. It is linked to a 7-speed automatic transmission and a four-wheel drive system with three electrically controlled, 100-percent differential locks.
The G55 AMG's replacement returns an average fuel consumption of 13.8lt/100km (17mpg US), making it the second most efficient model in the G-Class series behind the diesel powered G350 BlueTEC (11.2lt/100km or 21mpg US).
The new Mercedes-Benz G63 AMG sports gets a new front bumper design with additional air ducts, a twin-bar grille, larger alloy wheels and side mounted exhaust pipes. The interior is also upgraded with bespoke instruments, carbon fiber trim, and two-tone leather seats.