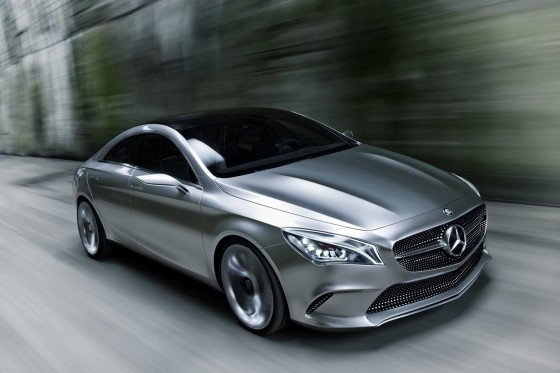 Mercedes-Benz has released a first photos of its Concept Style Coupe ahead its world premiere at the Auto China 2012 in Beijing on April 23. The sleek looking concept of the production model will follow next year and which Mercedes will build at its new manufacturing facility in Hungary. It will likely be named CLC or CLA.

The CSC concept is a CLS-style four-door coupe based on the latest A-Class with which it shares an elongated version of the MFA modular platform, its running gear, interior and driveline. The CSC is 4,637mm long, 1,891mm wide and 1,398mm tall, which makes it 46mm longer, 121mm wider and 49mm lower than the C-Class sedan.
The new concept is fitted with a 2.0-liter direct-injection and turbocharged four-cylinder petrol engine that delivers 208hp (211PS) and which is available on the production A25 hatchback. However, in the CSC, it is linked to Mercedes' 4MATIC all-wheel drive system and 7G-DCT dual clutch automatic transmission.
The production version of the CSC will be offered with a similar engine lineup to the A-Class in both front- and all-whee drive versions. Aside from the 208hp 2.0L Turbo found on the prototype, the range in Europe will also include a 1.6-liter turbocharged petrol with 121hp and 154hp and two diesels, a 1.8-liter unit with 134hp and a 2.2-liter engine with 168hp.
Unlike the A-Class five-door hatchback, the production CSC will be sold in North America, where it will likely be offered with the 2.0L Turbo, the most powerful diesel and in AMG guise.