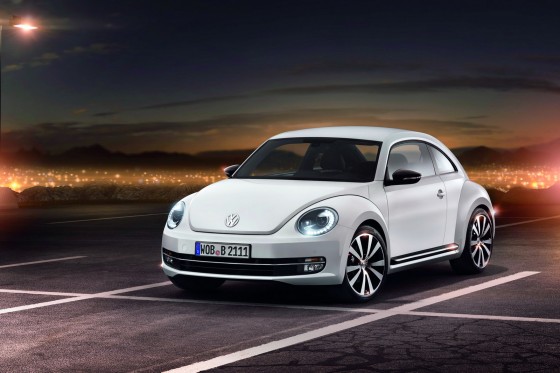 The third generation Volkswagen Beetle was unwrapped today ahead of its world premiere at the 2011 New York Auto Show. The new Bug would be larger, more mature and unisex. Highlights include an available flat bottom steering wheel, an extra glovebox integrated in the front facia whose lid folds upward while keeping the standard glovebox that opens downward, optional auxiliary instruments above the center console and integrated audio and navigation systems with a 5-inch or a 6.5-inch screen.

The 2012 Beetle has grown in size and now measures 4,278 mm in length (+152 mm), 1,808 mm in width (+84 mm) and 1,486 in height (-12 mm). The track width front and rear, as well as the wheelbase at 2,537 mm, are also increased over its predecessor and promise to offer improved interior space. In addition, the boot capacity is 310 liters, up from 209 liters in the 1998 model, while all versions come with a split-fold rear seat for improved versatility.
The Beetle features a front mounted engine, front-wheel drive layout. The latest Bug will be offered with a choice of diesel and gasoline engines. In the U.S., powertrain options include a 2.0-liter TDI turbo diesel with 140HP and either a 6-speed manual or 6-speed dual-clutch automatic transmission.
The gasoline range comprises of VW's archaic 2.5-liter five-cylinder unit with 170HP. The manual version attains 22 mpg (City), 31 mpg (Highway) and 25 mpg (combined), while its counterpart with a 6-speed automatic comes in at 22 mpg (City), 29 mpg (Highway) and 25 mpg (combined).
Finally, U.S. buyers can opt for a 2.0-liter TSI turbocharged gasoline unit with 200HP and a combined fuel economy of 25 mpg. It is offered with a 6-speed manual or an optional 6-speed DSG.
Gasoline choices include a 1.2-litre TSI with 105HP, a 1.4-litre TSI delivering 160HP and a 2.0-litre TSI producing 200HP. The diesel range includes a 1.6-liter with 105HP and a 140HP unit.
All five engines may be combined with a dual clutch transmission as an option.