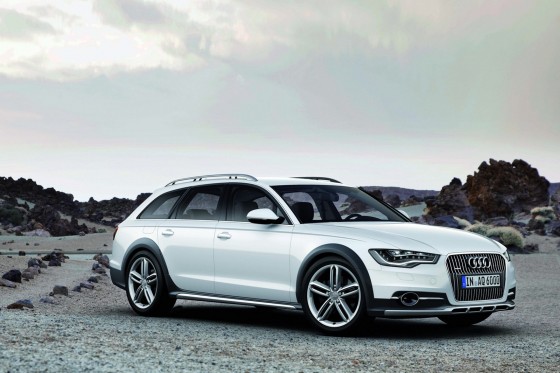 Here are first official photos and specs of the brand new 2013 Audi A6 Allroad. The new A6 Allroad is 4.94 meters long, 1.90 meters wide and 1.47 meters tall. The body of the new Allroad sits 60mm higher than that of the regular A6 Avant.
The 2013 Allroad gets new bumpers with the massive front grille with the chromed vertical slats, more widely flared fenders, stainless steel covers and chunkier roof bars.

The total vehicle weight on the Allroad has been reduced by as much as 70 kg compared with the previous model. In Europe, there are four available powerplants including one TFSI gasoline engine and three TDI diesel units.
The 3.0-liter V6 TFSI is rated at 310HP and accelerates the Allroad to 100 km/h in 5.9 seconds with an electronically limited top speed of 250 km/h. It consumes 8.9 liters of fuel per 100km. All three diesel engines are based on Audi's 3.0-liter V6 TDI producing 204HP, 245HP and 313HP. The most powerful diesel, which is linked to an 8-speed auto, allows for 0-100km/h sprint time of 5.6 seconds. The TSI and the two less potent diesel engines are paired to Audi's 7-speed dual clutch transmission.
No word about plans to bring the A6 Allroad to U.S., but in Europe, it goes on sale this spring the base 204HP TDI model starting from US$70,000.