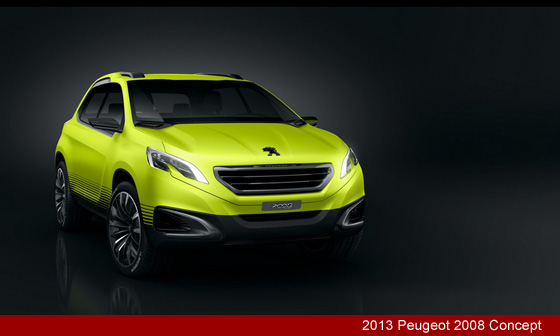 Today Peugeot released fresh details of the new Peugeot's 2008 Concept. The closely related production model will be launched beginning from 2013. The Peugeot's 2008 Concept is small crossover in the likes of the Nissan Juke and GM's Chevrolet Trax and Opel Mokka (Buick Encore in North America). It is based on the 208 supermini.

The 2008 Concept measures 4.14m (163-inches) long and 1.74m (68.5-inches) wide. Peugeot said that the 2008 Concept is equipped with a development of firm's new generation 3-cylinder petrol engines, and in particular, a 1.2-liter unit with turbocharging and direct-injection technology that delivers a power output of 110bhp while also offering, "low fuel consumption and CO2 emissions".
The 2008 Concept was designed and engineered by Peugeot's centers in Europe, China and Latin America. The production model will go on sale next year and will be manufactured in France, in China and later in Brazil.