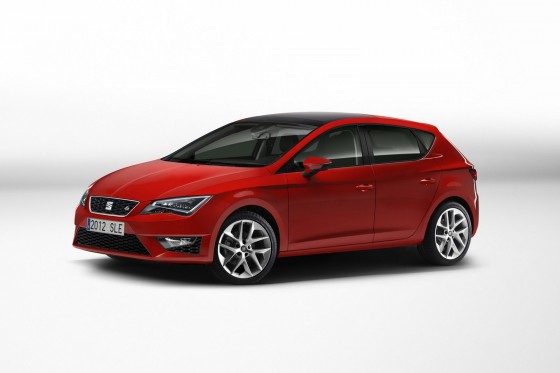 Here are the first official photos and video of the third generation of the Spanish Seat Leon. The VW division's five-door hatch was officially unveiled today. The new 2013 Leon will also be available in a sportier looking three-door hatchback body style as well as an estate variant, with all three models to be launched into the market by next fall.

Inside, the new Leon features a design with an instrument panel that looks like a panel in the latest Audi A3. Seat officials say the materials, finish and attention to details are "at least as good as you can find in the segment above."
Among other available features is a new infotainment system, iPod connectivity, an optional DAB tuner, and voice recognition.
The Leon measures 4,263mm long that makes it around five centimeters shorter than the outgoing model, but the wheelbase is up by almost six centimeters at 2636mm, something that should improve its interior space.
The new Leon will be offered with the usual mix of turbocharged TSI petrol and TDI diesel engines we find in other models of the VW Group. All engines feature direct injection and turbocharging with Seat claiming that compared to their respective predecessors, their fuel consumption is down by up to 22 percent.
At launch, the Leon will be offered with a 1.6-liter turbo diesel generating 104hp and 250Nm of torque that returns 4.0lt/100km with CO2 emissions of just 99g/km. There's also a 2.0-liter turbo diesel with 148hp and 320Nm.
Early next year will see the arrival of several gasoline engines including the 1.2-liter TSI in 85hp and 104hp flavors, the 1.4-liter TSI with 120hp and a 1.8-liter TSI producing 178hp.
The diesel line-up will be enhanced with a 1.6-liter TDI producing 89hp and the range-topping 2.0-liter TDI with 181hp.
Depending on the engine, transmission options include five- and six-speed manual gearboxes and six- and seven-speed DSG dual-clutch gearboxes.
The first Leons will arriving in European dealerships this fall, after its Paris Motor Show debut in front of the public in late September.