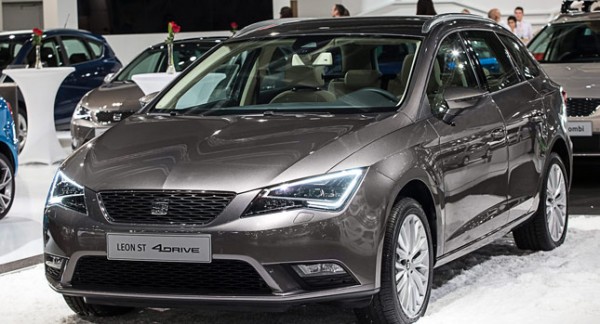 The new update from Spanish automaker – Seat Leon ST is unveiled in "4Drive" all-wheel-drive version at the Vienna Auto Show right now.
The new Leon ST 4Drive is offered with two diesel engines: a 104hp 1.6-liter and a 148hp 2.0-liter units.
The two TDI engines are mated to a six-speed manual transmission, with average fuel economy standing at 52.2 mpg for the 1.6-liter and 49 mpg for the 2.0-liter. Both models are fitted as standard with a start/stop system and braking-energy regeneration.
The 2.0 TDI model sprints from 0 to 100 km/h (62 mph) in 8.7 seconds, while the 1.6 TDI does it in 12 seconds. Top speed is rated at 211 km/h (131 mph) and 187 km/h (116 mph), respectively.
The 4Drive system looks like a permanent all-wheel-drive system that uses a multi-plate clutch with hydraulic actuation and electronic control – a fifth-generation Haldex clutch. Sounds great!
So, the AWD system works in conjunction with the four-wheel EDS dynamic control system consisting of electronic differential locks on both axles, the extended electronic differential lock for better traction while cornering, the electronic stability program and the multi-collision brake.
In normal operation, the clutch sends most of the engine power to the front wheels, but when traction suffers, the torque is diverted to the rear as well.
The Seat Leon ST 4Drive 1.6 TDI will be introduced in Europe this April, with the 2.0 TDI model to arrive in summer.