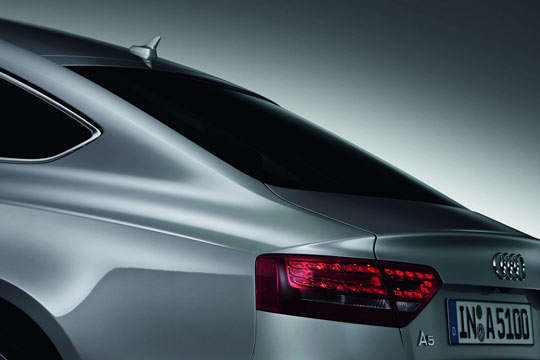 Audi unveiled a first photo and detailes of the upcoming A5 Sportback. The information includes details on the entry prices and the engine range. The Audi A5 Sportback is a sleek five-door coupe with a low-slung roofline and a large hatchback. The new Sportback will be available with an range of turbocharged and naturally aspirated gasoline engines as well as diesel units.

The A5 Sportback is 36 mm or 1.42 inches lower than the A4 Sedan while it also features shorter overhangs at the front and rear as well as a 2mm longer wheelbase of 2,810 mm.
The two gasoline units, the 2.0-liter TFSI with an output of 211HP and the 3.2-liter V6 generating 265HP will be combined with Audi's all-wheel drive quattro system.
The diesel lineup will include a 2.0 TDI with 170HP, a 6-speed manual gearbox, the 2.7-liter TDI with 190HP, and the three-liter V6 TDI with 240HP and quattro all-wheel drive.
The A5 Sportback will arrive to European dealerships in September with an start price of €36,050 in Germany ($50,000) for the 2.0 TDI version. Later, Audi will add a cheaper model.