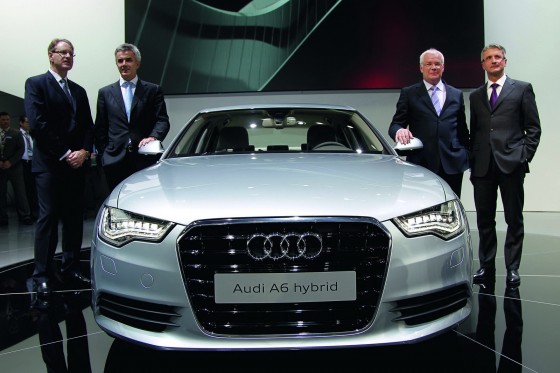 Great news for green Audi's fans in U.S. Officially, Audi still refuses to confirm that the A6 hybrid will be offered in the U.S., but we have confirmation from several reliable sources within Audi that the new A6 Hybrid will be sold in the USA starting from next year with a price starts from $55,000. It is believed that the U.S.-spec hybrid model will be similar to the euroversion that also goes on sale in 2012.
The European model employs a parallel hybrid concept combining a 2.0-liter TFSI gasoline engine delivering 211-horses and 350 Nm with an electric motor that produces an output of 33 kW (45 hp) and 211 Nm of torque.

Directly mounted behind one another, the four-cylinder gasoline engine and the electric motor have a brief combined system output of 245HP (180kW). A modified 8-speed tiptronic transmission transfers power to the front wheels.
The electric motor draws energy from a lithium-ion battery system, which weighs in at 36.7 kg and is located in the collision-protected area under the luggage compartment.
What you get in return is a 0 to 62 mph sprint time of 7.3 seconds and a top speed of 148mph, but more importantly, a combined fuel economy in the European cycle of less than 6.4 liters per 100 km.
In addition, Audi says that the A6 Hybrid can be driven up to 100 km/h (62mph) under electric power alone.