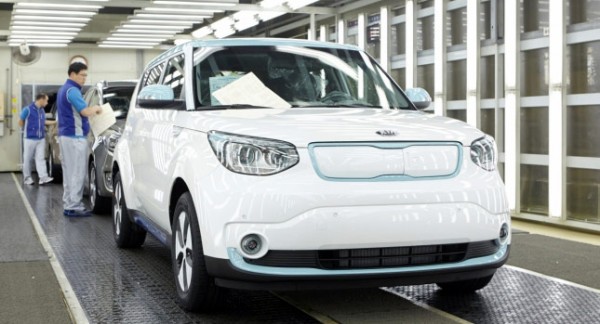 Kia Starts Production of All-Electric Soul at the plant in South Korea. The new all-electric model named Soul EV. The Soul EV features a 27 kWh battery pack and a claimed range of 212 km or 132 mph, while being able to sprint past sixty in just over eleven seconds; top speed is 145 km/h or 90 mph.
Thomas Oh, Executive Vice President and COO, Kia Motors Corporation adds to the background context: "Although it is Kia's first globally-sold all-electric vehicle, the Soul EV is our second-generation battery electric vehicle and benefits significantly from our in-depth experience gained from development of the Ray EV and proven daily operations of the Ray EV fleet in Korea for the past three years."
The EV's battery can be charged up to 80 percent of its capacity "in as little as 25 minutes with a 100 kW charger or 33 minutes using a 50 kW DC charger."
Juice goes to an 81.4 kW (108 hp) electric motor which has around as much torque as a diesel engine of comparable output would have.
No word about pricing yet, but we should waiting for upcoming news for US customers. The model has now gone into production in its native South Korea, and it's expected to be exported outside of the country "later in 2014".