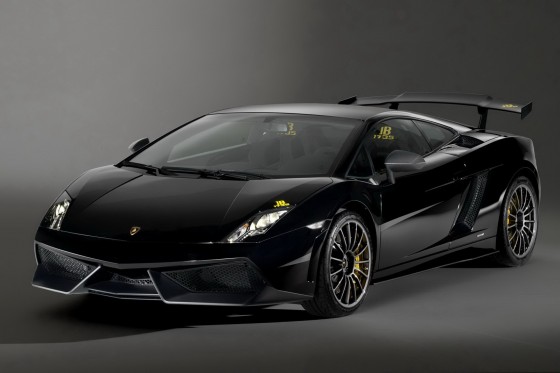 Lamborghini in association with Swiss watchmaker Blancpain has built a limited edition version of its Gallardo. Finished in a black paintwork, the road-legal Gallardo LP 570-4 Blancpain Limited Edition adopts the racing model's Countach-sized rear-wing and unique engine cover which is said to offer improved ventilation.
The Blancpain Edition also gets Skorpius alloy wheels with yellow-painted brake calipers and discs made from carbon-ceramic composite, while several external components, such as the diffuser and mirror casings are made from carbon-fiber.

The interior is finished in black Alcantara with yellow accents and visible carbon-fiber.
The Lamborghini Gallardo LP570-4 Blancpain Limited Edition comes from the 5.2-liter V10 with 570-horsepower found in the series production Gallardo Superleggera.
Lamborghini says the Blancpain Edition tips the scales at 1340 kilograms (2954 lb) making it "the lightest road-going model in Lamborghini's range."
Power-to-weight ratio of the vehicle stands at 2.35 kilograms (5.18 lb) per hp with the Blancpain completing the standard zero to 100 km/h (0-62 mph) sprint in 3.4 seconds and reaches the 200 km/h (124 mph) mark only 6.8 seconds later (10.2"). Top speed exceeds 320 km/h (199 mph).
There is no word on pricing yet.