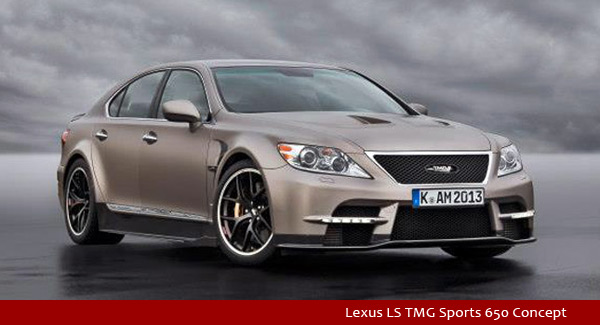 Toyota Motorsport GmbH (TMG) has unveiled an interesting, a more modern appearance concept, based on the pre-facelift Lexus LS. The TMG Sport or TS-650 Concept is a track ready now, high-performance saloon fitted with a 5.0-liter twin-turbocharged engine capable of reaching 9,000 rpm while delivering 641hp and a peak torque of 710Nm.

An eight-speed transmission drives the car's wheels, but no word yet if the concept is all- or rear-wheel drive.
On the outside, the Lexus LS TS-650 Concept swaps all Lexus badges with the "TMG" logo, certainly looks the part with its blistered wheel arches, new front bumper with enlarged air vents, LED daytime running strips and lip spoiler, extended side skirts, deck-lid spoiler and new rear bumper with a diffuser and quad tailpipes.
Neither TMG nor Lexus won't reveal what they plan to do with the TS-650 Concept until the car is officially revealed at next week's 2012 Essen Motor Show in Germany.