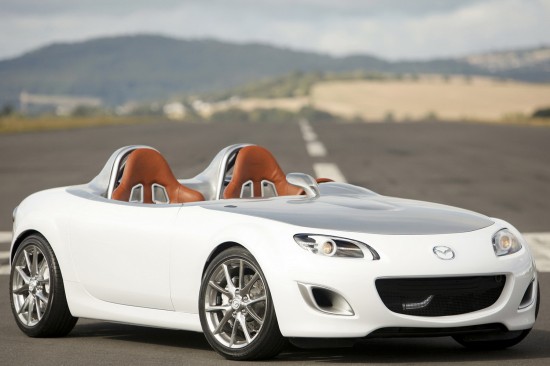 Its a special Superlight concept crafted for the Frankfurt Motor Show as part of the year-round celebrations for the two decades of the MX-5 / Miata roadster. The Superlight Concept, based on the latest facelift version of the Mazda MX-5, the zoomalicious Superlight is a two-seater speedster model with no windscreen that has been stripped down to the very basics in order to achieve a kerb weight of just under a tonne thus improving the vehicle's driving dynamics.

The removal of the windscreen required the extension of the original aluminum bonnet into the cabin with a lightweight carbon fiber sheet that provides a "hood" for the dashboard frame while it also houses the single, filigree aluminium, wide-angle mirror.
Inside, the driver and passenger of the Superlight concept are greeted by racing bucket seats made of ultra-lightweight carbon fibre and are upholstered with the same saddle colored leather as the armrests, the steering wheel, and the lightweight aluminium shift lever and hand brake.
Underneath the sheetmetal, the Superlight retains the production MX-5's 126-horsepower 1.8-litre four-cylinder engine paired to a five-speed manual transmission. However, there's a Mazdaspeed cold-air intake made of polished and powder-coated aluminium and a Mazdaspeed exhaust system that allow the engine to deliver a sportier sound.
Weighing in at just 995 kg or 2,194 pounds, the Superlight accelerates from zero to 100km/h in 8,9 seconds consuming only 6.3 lt /100 km with CO2 emissions of 150g/km. That's compared to the stock MX-5 1.8's 1,080kg, 9,9 seconds, 9.5 lt/100km and 167g/km CO2.