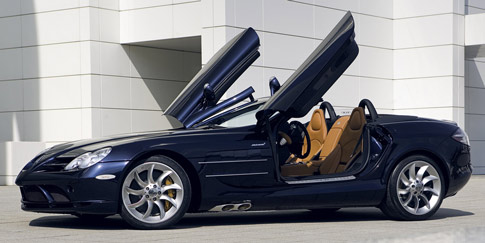 Mercedes-Benz unveiled the SLR McLaren super sports car in the form of a roadster. Powered by a supercharged (Kompressor) 5.5-liter, 617-hp AMG V8 engine, the SLR McLaren Roadster can achieve a top speed of 207 mph.
With an AMG Speedshift R five-speed automatic transmission the engine delivers maximum torque of 575 pound-feet, and a zero to 62 mph time of 3.8 seconds.
Its body is made entirely of carbon-fiber reinforced plastic materials. Its newly developed roof material offers desirable aerodynamics while up. Favorable aeroacoustics with the top down mean conversation is still possible at well over 120 mph.