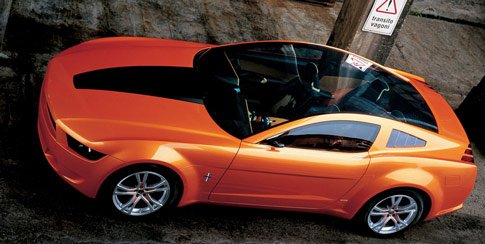 Ford unveiled the Mustang Giugiaro concept ??" a one-off design study by Fabrizio Giugiaro.
The Mustang by Giugiaro appears more compact than the production car, thanks to a reduction of the rear overhang and a signature Giugiaro ???trick??? of tapering the angles on the car to the limit of its mechanical outlines. The vibrant orange concept is wider than the production version. The Giugiaros added 30 millimeters to the front, gradually expanding the width by a full 80 millimeters toward the rear.
The 500 horsepower car features a single curved glass panel that bridges the windshield and rear window, serving as the concept??™s roof. Produced by Solutia of Detroit, the panel is made from a special type of crystal that filters out 100 percent of UVA rays while providing unfettered vista views. The car's doors open vertically, with hinges at the base of the upright A-pillar.