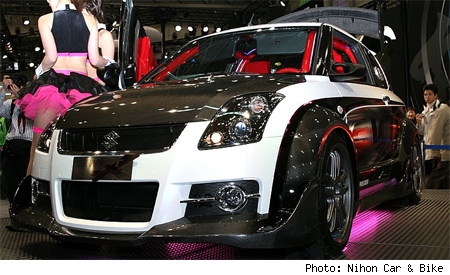 Suzuki displayed their Swift X Sport Concept on the Tokyo Auto Salon.
The hood, splitter, fender flares and spoiler are all made of carbon fiber and if you can get beyond the podium-required underbody neon, Lambo doors and tri-tone hues, you'll be able to appreciate the 18-inch OZ wheels that frame four-piston Brembos.
In addition to a revised dash, on the inside, you'll find that the flimsy stock thrones have been replaced with racing buckets, complete with competition harnesses. Naturally, a show car can't leave the shop without some form of excessive ICE, so Suzuki found ten wholes to fill with speakers inside the diminutive hatch.