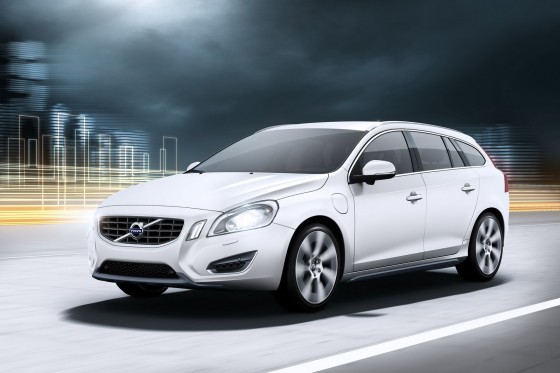 Today, Volvo released a full set of photos and additional specs on its Plug-in Hybrid, which will be launched in 2012.
The new model is a world's first diesel plug-in hybrid, the result of close co-operation between Volvo and Swedish energy supplier Vattenfall.
The Volvo V60 Plug-in Hybrid's powertrain consists of a five-cylinder 2.4-litre D5 turbo diesel with 215 hp and maximum torque of 440 Nm that drives the front wheels, and a 70HP-strong electric motor that receives its juice from a 12 kWh lithium-ion battery pack and motivates the rear wheels. The car also features a six-speed automatic transmission.

The car's battery package can be recharged via a regular power socket (230V/6A, 10A or 16A). A full 10A charge takes 4.5 hours. The time is shortened to 3 hours with 16A, while a charge in a 6A socket takes 7.5 hours.
The driver can choose from three different modes via a set of push buttons on the center console: Pure, Hybrid and Power.
In Pure mode, the car runs only on its electric motor, with the maximum driving range being up to 32 miles or 51 kilometers with zero emissions of carbon dioxide.
The Hybrid mode, which is the default setting whenever the car is started, makes use of both the diesel engine and electric motor. In this mode, V60 Plug-in Hybrid returns a fuel economy of up to 125 mpg US with CO2 emissions of just 49 g/km, and a total driving range of up to 746 miles or 1,200 kilometers.
In Power mode, the system is optimized to give the car the best possible performance, with the diesel engine and electric motor producing a combined power output of 215 + 70 horsepower and maximum torque of 440 + 200 Nm. The station wagon completes the 0 to 62 mph sprint in just 6.9 seconds.
"The second-generation hybrid is the perfect choice for the uncompromising buyer who wants a superbly carbon dioxide-lean car packed with driving pleasure. To get drivers to think green, we have offered both, in one traditional genuine sports wagon" said Stefan Jacoby, President and CEO of Volvo Cars.
Volvo said that the added cost of the battery pack and the electric motor system means the plug-in hybrid will be more expensive to buy than a regular V60, but added that fuel costs are expected to be one-third of a conventional combustion engined V60. Pricing and market availability will be announced nearer the 2012 launch date.