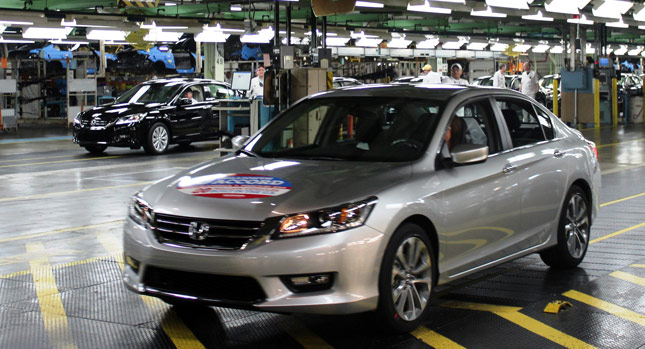 Today we have interesting news for Honda fans: Honda's U.S. division is building its 20 millionth car in the USA and the 10 millionth Accord sedan. Honda's assembly plant placed in Marysville, Ohio.

As you remember, the first Japanese auto plant began production in U.S on November 1, 1982. Since then, Honda has set up automobile manufacturing operations in East Liberty, Ohio, Lincoln, Alabama, and Greensburg, Indiana. Honda currently build 11 different models in America, including four passenger cars and seven light trucks.
The Honda Accord sedan was the Japanese carmaker's first model built in the U.S. 32 years ago, with the Marysville plant now producing the Accord Sedan, Coupe and Accord Hybrid. Accord models also were produced for four years at the East Liberty Auto Plant and two years at Honda Manufacturing of Alabama.
In 2013, nearly 95 percent of the Honda and Acura automobiles sold in the U.S. were produced in North America.
Besides the vehicle manufacturing plants, Honda also has engine manufacturing facilities in Lincoln, Alabama and Anna, Ohio, as well as automatic transmission plants in Russells Point, Ohio, and Tallapoosa, Georgia. These plants have produced 23.77 million automobile engines and 18.64 million transmissions in the United States.