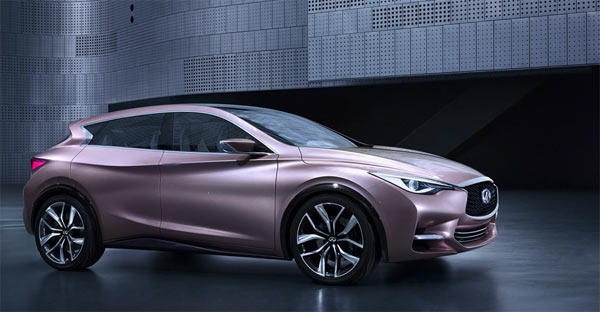 Infiniti has teased its fans before upcoming Frankfurt Motor Show. Japanese premium segment carmaker has released its new Q30 hatch concept. It is a cool version of the actual Q30 that looks at coupes, crossovers and hatchbacks for inspiration, all fused together to create Infiniti's foray into the premium compact segment.

Japanese automaker says it the Q30 was crafted with younger buyers in mind stating it is "confident this merging of the dynamic design and sportiness of a coupe, the roominess of a hatch and the higher stance of a crossover will resonate with these customers."
The Infiniti Q30 may target both conventional hatches like the Audi A3, BMW 1-Series and Volvo V40, possibly even buyers looking into more expensive versions of the VW Golf, as well as their higher-riding crossover counterparts, such as the Audi Q3 and BMW X1. Whether it will succeed in doing so, is another story.
Wait for more information about the new Infiniti Q30 concept from the Frankfurt Motor Show this coming Tuesday.